Streetside Charging
in St. Gallen
The city of St. Gallen is conducting a pilot project on charging in the neighborhood at three locations. In this post, we show what is meant by charging in the neighborhood and give tips on how e-charging stations can be implemented in the neighborhood.
Not everyone has the opportunity to charge their car at home. Particularly in cities, many do not have their own parking space, the owner or owners refuse to install a charging station, or the costs and effort are not worth it. In such situations, streetside charging in residential neighborhoods offer a good alternative. Here, e-cars can be parked and charged at the same time.
What does "Streetside Charging" mean?

"Streetside Charging" has established itself in Switzerland as a term for charging stations in public parking lots, primarily in residential areas. Usually, the local energy provider installs AC charging stations on parking lots in the blue zone. The target groups are primarily local residents. However, since these are charging stations on public property, visitors can also use the charging infrastructure.
With eCarUp, I have achieved our goal of our own pricing, and that was a main concern for me in the project. We have the tariffs in our own hands and I am sure that our example will set a precedent.
Charging points next to roadside parking sports facilitate the switch to electric cars
Cars will remain part of urban mobility in the future, but it must become more climate-friendly. Electric mobility is currently the energy concept being relied on to reduce the negative impact of automobile traffic. The challenge is to adapt the infrastructure accordingly.
In St. Gallen, the electrification of transport is being addressed proactively. "From our point of view, it is clear that a charging station has to be there first in order to motivate more people from the population to switch to an e-car," says Vera Tettamanti, project manager for streetside charging at St. Gallen Stadtwerke (sgsw). As in many cities, a significant portion of the population lives in buildings without private car parking. These residents mainly park on roadside parking spots and do not have the option to charge at private charging stations. Charging stations in the blue zones therefore make it possible for many people to switch to e-cars in the first place.
Streetside Charging in St. Gallen
For this reason, the city of St. Gallen has launched the pilot project «Streetside Charging». In an evaluation process, the city administration identified seven locations suitable for the pilot project. In order to determine the final three locations, residents in a defined radius of these seven locations were contacted directly. They were able to register their need for an EV charging station online. A total of 118 responses were received. After an analysis, the three most frequently mentioned locations were defined.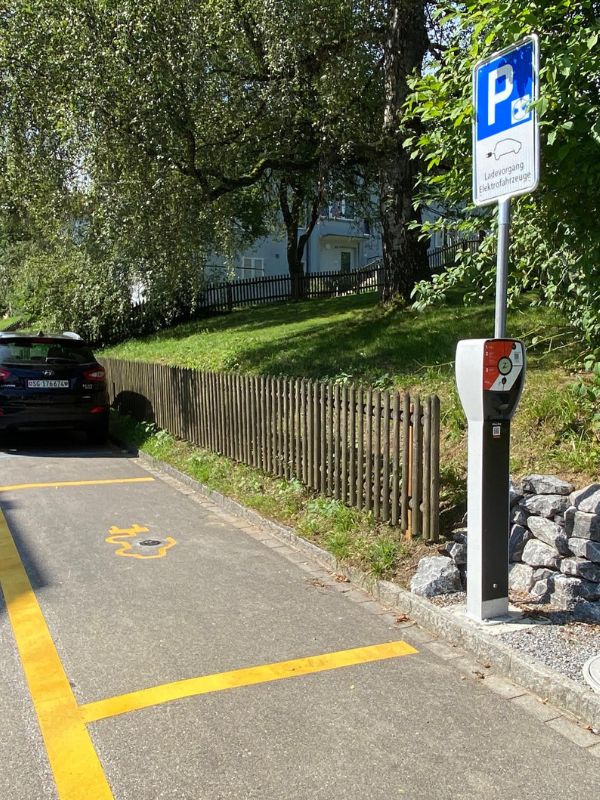 Test Run of the Charging Stations
sgsw put the three sites into operation in July 2022. Two charging points with a charging capacity of 11kW each were installed at each location. Pico, easee and Zaptec charging stations were used. "As this is a pilot project, we are taking the opportunity to test out the different station types," says Vera Tettamanti.
In the specially signaled parking spaces with charging stations, the electric vehicle may only be parked when charging. Electricity must be flowing in order to be allowed to park next to the charging pole. It is therefore not enough just to plug in the car. The legal basis for this had to be created. "But surely no one has to re-park at 4:00 at night when the car is fully charged. If, on the other hand, the charging spaces are blocked unnecessarily, we now have the authority to issue fines," said Vera Tettamanti. Otherwise, the regulations for streetside parking apply.
Billing
Infrequent visitors can use the charging stations at a standard rate of currently CHF 0.45 kWh. Residents, on the other hand, can take out a subscription for "Roadside Parking" to benefit from cheaper kWh rates of currently CHF 0.32 kWh. The subscription costs CHF 10 per month. In addition, it would usually also entail a one-time activation fee of CHF 269.25, but this will be covered by the city of St. Gallen during pilot operation (until the end of 2022).
Users without a subscription will be billed by credit card. Users with a subscription will receive a bill on account every two months and a statement once a year. Customers of the St. Gallen municipal utility can choose whether to have the purchase billed on their household electricity bill or on a separate bill. "It's an attempt by means of pricing to keep the charging stations free for subscribers to use as much as possible. At the same time, however, we do not want to exclude anyone from the charging opportunity and the stations are therefore also available for use by guests. From 1.5 full charges per month, the subscription is worthwhile. With eCarUp, we have found exactly the solution we were looking for," says Vera Tettamanti.
# Tip 1: Involving all stakeholders
To cover as many perspectives as possible, all stakeholders should be involved. The project team of "Roadside EV Charging" in St. Gallen was set up from the beginning so that all involved departments were represented in the project team. These were the civil engineering office, the city police, the structural engineering office, and St. Gallen Stadtwerke. "The project team was very well positioned and we received great support from the entire city council. This gave us so much momentum that working on the pilot project was a great pleasure," said Vera Tettamanti.
# Tip 2: Use exchange platforms
It pays to learn from the experiences of others. "We were able to benefit greatly from the experiences of Bern and Basel. There is an exchange group on e-mobility in public spaces. The cities of Zurich, Bern, Basel, Geneva, St. Gallen and the Swiss Federal Office of Energy are represented in this. Thanks to this experience, we were able to solve some challenges from the beginning in such a way that difficulties did not arise in the first place."
# Tip 3: Clarify responsibilities
For the time being, financing and, above all, operation must be clarified. The stations of the pilot project belong to the St. Galler Stadtwerke, which is also the operator. The pilot project was financed by both sgsw and the "Environment and Energy" department of the city. St.Gallen. How a larger expansion could be financed is still being examined. It is clear, however, that sgsw will remain the operator. This means, for example, that sgsw is also responsible for the maintenance of the charging stations and ensures that they remain functional.
# Tip 4: Billing
Billing for the charging stations is also an important issue. "It was important to the project team that sgsw has control over the design of the kWh price and at the same time can offer two differentiated services – with subscription and without subscription." Billing for e-charging stations requires new processes and can vary in complexity depending on the requirements.
# Tip 5: Create a legal basis for streetside charging
Whether parking at charging stations is only allowed during charging or also beyond that must be clarified precisely in advance and recorded in a legal basis. After all, what exactly does "charging" mean? Does electricity have to flow recognizably, or is it enough if the cable is plugged in? In St. Gallen, this was clarified in advance so that no ambiguities could arise during operation.
# Tip 6: User-friendliness
User-friendliness must always be in focus. Vera Tettamanti still sees room for improvement when it comes to parking space allocation. "As a user, I want to see online whether the parking space is free or not. The benefit of seeing on the corresponding apps whether electricity is flowing or not is limited. The parking space can be free in this case, or occupied by a combustion or e-vehicle that is not charging. We are currently still installing ground sensors in the pavement. The occupancy status will be visible on our homepage." Continuous improvement of the charging experience avoids frustration at the EV charging stations.
Roadside Charging is an important building block in the electrification of transport
Environmentally friendly mobility will only become a reality if it is emission-free. The city of St. Gallen is laying the foundations for this. "Charging in the neighborhood has great potential. The majority of the automotive industry has committed to the internal combustion car phase-out. If no new internal combustion cars are produced from 2035, then we have to move now. We are convinced that the utilization of e-charging stations will increase sharply in the next two years. ", says Vera Tettamanti. Municipal energy providers such as sgsw are predestined to provide privately operated charging infrastructure in public spaces. This is particularly necessary in urban neighborhoods that are densely built-up and where there is no possibility of setting up charging stations in private areas.
Interested?
We support utilities in the implementation of roadside charging projects. Contact us for more information!
Contact
Riedstrasse 18
6343 Rotkreuz
Switzerland